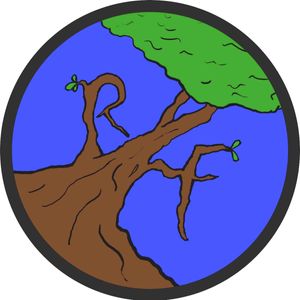 Random Fractions is the Chicago-area duo of Cathy McManamon (guitar, vocals) and Jason Neerenberg (bass, vocals).  They play originals and covers mostly in the folk/rock/filk genres, but their distinctly different backgrounds provide a rich diversity of music and styles that influence their sound, ranging from Indigo Girls to Iron Maiden, Dave Carter to U2, and others.  Individually and collectively they have played in coffee houses, bars, churches, living rooms, basements, and at sci-fi conventions, outdoor festivals, and fundraisers.  
The band members hold 19 Pegasus Award Nominations between them, and Random Fractions won the Pegasus for Best Performer in 2018 after being nominated twice before in 2015 & 2016 under its former name, Three-Fifths, with former band member Daniel Gunderson.  They have been known to acquire other musicians (thus the "random") at many of their performances, including Amy McNally, Eric Coleman, Betsy Tinney, Leslie Hudson, and Alexander James Adams. This keeps their sound fresh and constantly evolving.  They are also in demand individually as guest musicians for other performers.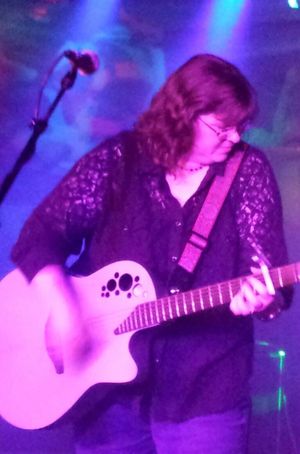 Cathy McManamon is the main songwriter and driving force of the band.  She has been playing music since before she could reach the pedals on her family's Lowrey organ, was heavily influenced by her older brother's collection of 70s rock bands and singer-songwriter albums,  and started teaching herself to play the guitar she got for Christmas when she was nine. After joining her church's folk choir as a guitarist, she got paid for playing at her first wedding ceremony when she was just ten.  She then spent 25 years as a liturgical musician and choir director, which she credits as the ultimate source of hands-on learning for composition, arranging, and how to get volunteers from age 6 to 76 who can't read music to sing in four-part harmony.  She spent 10 years as an elementary school music teacher in general music, chorus, and beginning organ, and still teaches private guitar lessons to all ages. Cathy reaches out to local schools as a music fair and band solo contest judge and as a Career Day speaker.  Her musical influences include Melissa Etheridge, The Indigo Girls, Fleetwood Mac (collectively and individually), and The Alan Parsons Project, but she has a healthy respect for the hard rock and metal music her bandmates enjoy.
Cathy played guitar for nearly 20 years before considering herself a singer as well.  She has dabbled with keyboards, wind instruments, percussion, and started drumming in 2007 leading to a solid foundation of hand drum skills for ritual facilitation within the pagan community.  She met Daniel in November 2009 and Jason shortly afterward in the filk community at sci-fi conventions which led to being invited to step into a drummer vacancy - and confronted with a super-scary full drum kit for the first time - for the band Toyboat in 2012. She started to collaborate with Jason on her own music in March 2013 with their first performance in Livonia, MI in May of that year, and added Daniel into the mix on keyboards (and anything else they'll let him play on stage) in August 2013.  She enjoys collaborating with other musicians tremendously and continues to work on her own solo projects as well with nine albums of her own and more on the way.  She also runs a bi-monthly drum circle in Chicago.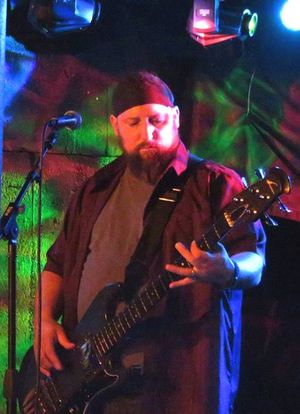 Jason Neerenberg is the band's bassist and vocalist.  Growing up in a small town in Oregon, he listened to classical and folk music (or whatever was on the valley's three radio stations).  Musical influences included Mary Travers, John Denver, Judy Collins, and Shostakovich.  All of this changed when our intrepid explorer moved to a larger town at age 13 and discovered Hair Metal.  With more musical options available, Jason became enamored of Iron Maiden, Motley Crue, Queensryche, Dokken, Europe, and any other metal band that used too much hair spray. He also discovered that Anthrax and Britney Fox were an excellent way to annoy his stepmother.  While attending college in Cleveland, our hero discovered the somewhat goth and emo sounds of Stabbing Westward and Candlemass.  He joined the Marines after college where listening to Nine Inch Nails made cleaning the barracks a bit more tolerable.
After the requisite four years sitting in the swamps of North Carolina, Jason left the Marines and moved to Chicago where he discovered symphonic metal (like Nightwish and Therion) and began to learn to play guitar himself.  He joined the rock-filk band Toyboat (playing both rhythm and bass guitar), then later formed the folkish trio of Three-Fifths (renamed Random Fractions) with Cathy McManamon and Daniel Gunderson where he sings and play bass.  Neither group plays in the heavy metal genres that Jason loves so much, but he is managing to cope.  In addition to nagging his bandmates about when the next album will be recorded, he currently teaches math full-time at an alternative high school on the South Shore of Chicago, where he listens to more rap and hip-hop than he does at home.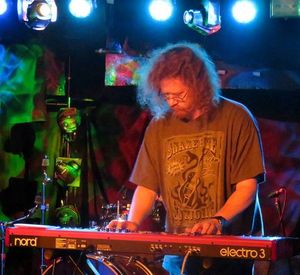 Daniel Gunderson, aka gundo, got his start in music when a family friend bought him a harmonica at a fair in Hyderabad, India, when Daniel was eight years old.  On his return to the States, he acquired more harmonicas and started to play music with his church.  From there it expanded to bass and a few years later to guitar.  After college, he made his way through grad school on the folk circuit in Chicago, picking up a few more instruments along the way.
It's said that "if it can be hit, has keys, or strings, he can play it" and that is certainly the case.  Daniel has recorded and performed on multiple instruments in a variety of styles and on a variety of stages.  He developed a reputation as a utilityman, able to step in and provide the needed support for many musicians looking for backup.  Besides his former role in Random Fractions on guitar, mandolin, Hammond, and piano, he plays guitar and mandolin in his church band, standup bass in a jazz trio, and guitar with the rock-filk band Toyboat.  Daniel left Random Fractions in 2019 to pursue a solo album (released in 2022) and several other collaborative projects.